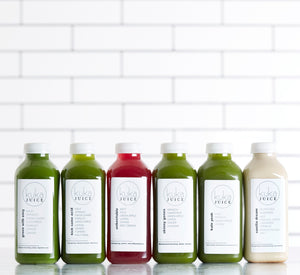 Looking for a reset? Starting now, we will be taking orders for the Kuka Juice 1 Day & 3 Day Cleanse! These cleanses includes 6 juices per day from the "Signature Cleanse" which contain the following juices:
-Green with Envy,
-Kick Some Acid,
-Unbeetable,
-Skinny Genes,
-Kale Yeah
-Vanilla Dream. 
All orders must be placed by 12pm EST on Thursdays for pick-up on Mondays after 3:30pm.
*Just for New Years week, we are taking orders now for January 4th pick up at 3:30! This item is available for in-store pick up only. All proceeding weeks will stay on the Thursday order and Monday pick-up schedule.